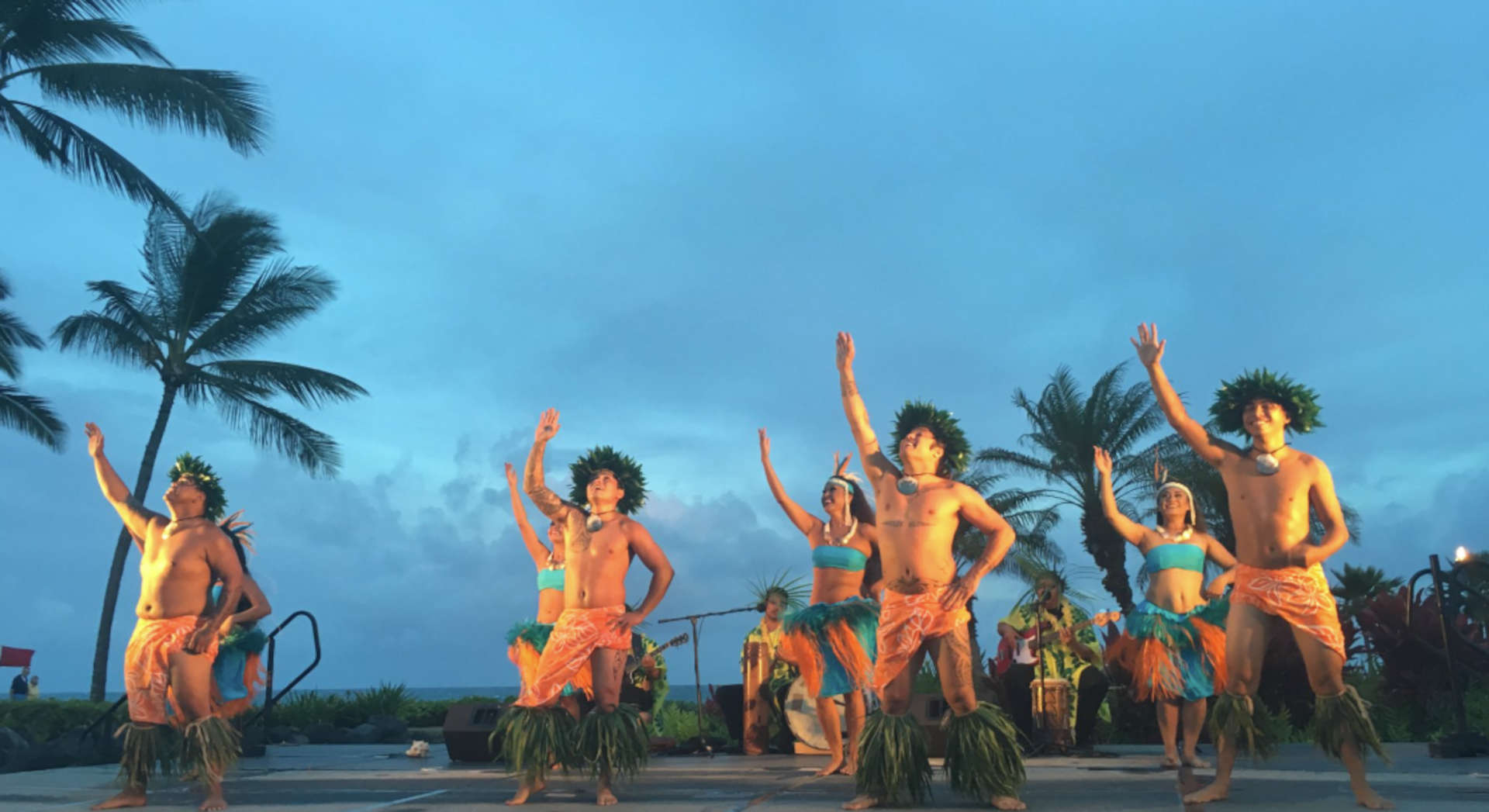 Local Customs
History of the Aloha Shirt, The Meaning of Mauka and Makai, The Meaning of Ohana, Slippahs, Graduations in Hawaii, Bon Dances, Pa'u Riders, Ahupuaa.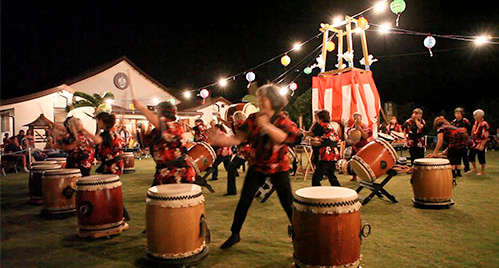 Kauai Bon Dance
Kauai is a treasured destination that is beloved by both its residents and visitors alike. The island is renowned for its diversity which brings people of various backgrounds and cultures together, making it a melting pot of customs and knowledge. The result of this natural exchange is often an appreciation and love for new foods and experiences that were once foreign. This is exactly why it`s easy to appreciate the annual event of Bon-Odori, also known as the Bon Festival Dance, held in Kauai.
The Bon Dance brings together locals and visitors to celebrate life and honor the spirits of their ancestors. The event features chochin, illuminated paper lanterns, strung across the dance floor, with traditional Japanese folk music and the sounds of the taiko drum echoing throughout the night. Performers in traditional kimonos circle around the yagura, a small tower in the center of the dance floor where the musicians are positioned. Bon Dance is a fun and cheerful community get-together where an empty stomach is highly recommended to fully enjoy the delicious foods and treats served by local vendors. While many may not be familiar with some of the unique dishes served, we highly encourage you to try them all. From flying saucers to sushi, mochi, and saimen, the list is endless. To truly experience Kauai, it`s important to embrace the local cuisine and culture as part of the overall adventure.
Visitors are also encouraged to indulge in spam, a local delicacy that is sure to delight even the most discerning palates. The Bon Dance is an excellent opportunity for visitors to immerse themselves fully in the culture and traditions of Kauai. Come and join in the festivities, meet amazing people, and make unforgettable memories that will last a lifetime.
The Spirit of Obon festival on Kauai is an exciting celebration of Japanese culture and tradition that takes place annually in Hanapepe. This year, the festival is scheduled for June 16th and 17th, and it promises to be a vibrant and lively event that you won`t want to miss. The festival is organized by the Kauai Soto Zen Temple, a local Buddhist temple that practices the teachings of Zen Buddhism. The Temple is committed to preserving and promoting Japanese culture and tradition on the island of Kauai, and the Spirit of Obon festival is the perfect event for achieving this goal. The festival itself is a colorful and lively showcase of Japanese culture, with various food vendors, traditional Japanese dance performances, and other cultural attractions. Visitors to the festival can take in live music, admire the beautiful traditional Japanese decorations, and participate in traditional Japanese games and festivities. One of the main attractions of the festival is the traditional Obon dance performance. This is a time when locals and visitors alike can join in the dancing and celebrate the memory of loved ones who have passed away. The dance itself is a beautiful and intricate sequence of steps and movements that dates back centuries, and it is considered a sacred way of honoring the memory of ancestors. During the festival, visitors will also get the chance to learn about the history and significance of Obon, and they can take part in traditional Japanese rituals, such as making offerings and lighting incense. It`s an immersive experience that offers an opportunity to learn about a fascinating aspect of Japanese culture. In conclusion, the Spirit of Obon festival is an exciting and vibrant event that celebrates the rich history and traditions of the Japanese people. If you`re in Kauai in June, make sure to put this festival on your must-see list, as it`s a fantastic way to experience the beauty and vibrancy of Japanese culture on the island of Kauai.
Location: Kauai Soto Zen Temple, Hanapepe (12.5 miles from Poipu)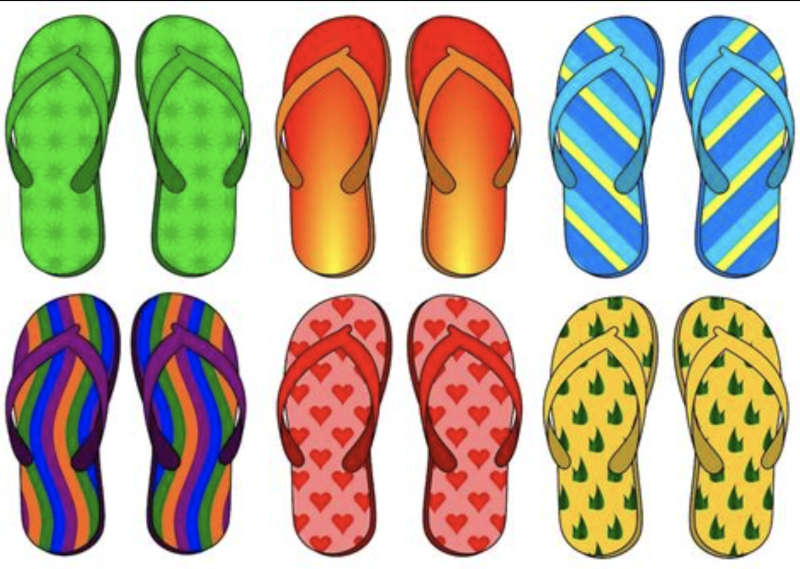 Slippahs
What are flip-flops? I only know slippahs.
When you come to Hawaii you`ll often hear the term, slippahs, or without the pidgin accent, it is pronounced slippers. They are flip-flops, just with a different name. In fact, this simplistic footwear is worn around the world and has grown to have specific names in their respective countries. For example, according to wondoropolis.org, they are called jandals in New Zealand and plakkies in South Africa. Guess what they call them in Australia; they are called, thongs.
Thongs?! Probably what you were just thinking. See, you learned something new. Just as these countries have come to identify it in their own unique way, slippahs is just one of those things that fall under the only in Hawaii category, just below spam.
Slippers are a very laid-back type of footwear. It is best for the beach and perfect for the hot and humid island weather. The convenience of slippers is what makes them so popular, 2 seconds to put on and you`re ready to go. Can you imagine going on a fancy date or special party with slippers on? As a local and speaking from what I see frequently, it`s completely normal to wear a nice polo shirt, your most expensive pair of jeans, and some branded slippers to finish the outfit. Seriously, when you`re living on an island with red dirt everywhere you tend to get a little picky when to wear those favorite pair of shoes of yours.
Do you take off your footwear every time you enter the house? If you are visiting family or friends on the island, you`ll understand; a quick glance a few inches from the front door and you will see a cluster of slippers. It`s a respectful gesture and, of course, it is to keep the house clean. The funny thing about this is that it is very possible and easy to leave the house with different slippers than what you arrived with. I admit that a few years back I went home with someone else`s slippers after a family party because it turns into a pile that you don`t feel like sorting through; I still have no idea who they belonged to.
If you are looking for an alternative to strapped sandals and Crocs footwear, I highly suggest purchasing some quality slippers. You can always find some good brands wherever they sell beach attire and surf gear. Here are a couple of shops you should check out:
-Deja Vu Surf at the Kukui Grove Center
-Poipu Surf and Quicksilver at the Kukuiula Shopping Center
-Hanalei Surf Backdoor at Ching Young Village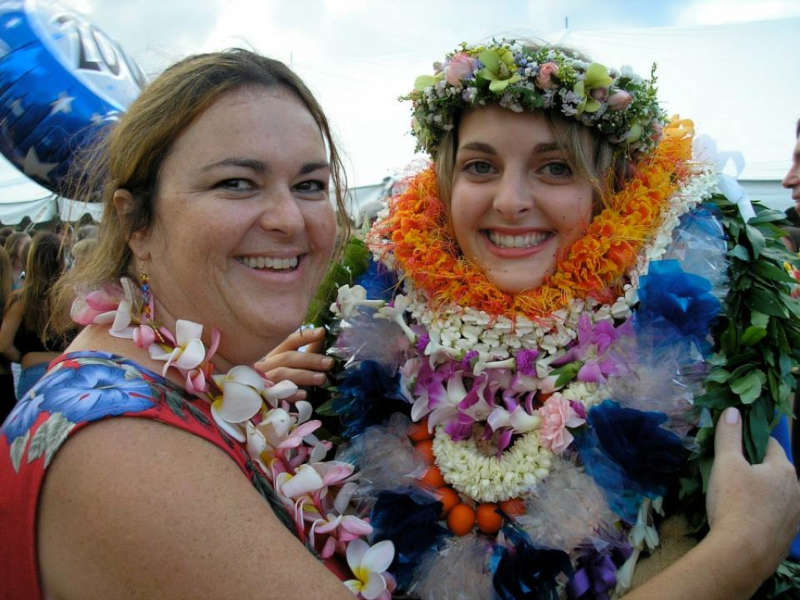 Graduations in Hawaii
I LOVE attending graduations in Hawaii. There is so much pomp and circumstance and tradition. Where I grew up, we did not even wear a cap and gown for high school graduation and family members did not turn out in droves to celebrate, even if you were receiving a Ph.D. In Hawaii, high school and college graduation ceremonies are huge. Often the graduates are given a number of tickets for the family to come to the ceremony and the rest of the clan waits outside to greet the graduate after the ceremony. It is not unusual for 40 or 50 people to show up, even for high school graduations.
Part of the fun is seeing the different leis showered upon the graduates at the close of the ceremony. I always get a little choked up when a special auntie places a lei over the graduate and has some special thing to say privately. There is so much pride in the air. The leis are stunning and becoming more and more artistic each year. They can be made out of flowers, candy, yarn, ribbons, or money and there is always the unconventional leis made out of unique items like beer cans or memorabilia. It would not be unusual for a graduate to have a thousand dollars worth of leis up to their ears and some have haku leis adorning their head as well.
After the ceremony, it is traditional to go outside of the venue and find the graduates` sign often with their picture waving on a stick in the air. You have to push your way through thousands of people to find your graduate.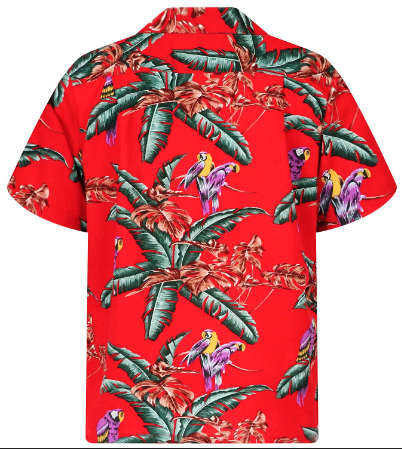 History of the Aloha Shirt
The Aloha shirt or Hawaiian shirt is a style of dress shirt originating in Hawaii. The modern Aloha shirt was created in the early 1930s by a Chinese merchant, Ellery Chun, in Waikiki. When they were first advertised on June 28, 1935, local residents, especially surfers, and tourists bought every shirt he had. After such retail success, he trademarked the Aloha Shirt in 1936. Within years, major designer labels sprung up all over Hawaii and began manufacturing and selling Aloha shirts and it is common to see a single Aloha shirt design for employee uniforms throughout Hawaii.
The tropical-print shirts for men and matching sundresses for women became standard and sometimes tacky souvenirs for travelers. The garments are elevated to a level of high fashion with artistic prints, high-grade materials, and quality workmanship. Tori Richard is a brand of these shirts, established in Honolulu in late 1956. Elvis Presley wore a red aloha shirt featured on the album cover of the Blue Hawaii soundtrack in 1961. Magnum P.I. gave the aloha shirt and Hawaii significant exposure as well.
Servicemen during the war were buying aloha shirts as quickly as they could get them, and they brought the fad of aloha shirts back to the mainland U.S. By the 60s, surfers had brought aloha shirts back to Southern California and developed a craze for them. Those same surfers who brought surfboards and aloha shirts to Southern California in the 60s are also the people who helped found the casual Friday that began in Hawaii in 1965 as Aloha Friday.
The Aloha Shirt is currently the most popular textile export of the Hawaii manufacturing industry. The dress shirts are printed, mostly short-sleeved, and collared. The lower hem is straight and not meant to be tucked in.
Aloha Attire, which is designated on many invitations in Hawaii, stems from the Aloha shirt and means that men wear Aloha shirts and women wear muumuu or other tropical prints. Because Hawaii tends to be more casual, it is rarely appropriate to attend such functions in full evening wear like on the mainland. "Aloha Friday," a now-common tradition of celebrating the end of the workweek by wearing more casual attire on Fridays, initially grew out of an effort to promote Aloha shirts.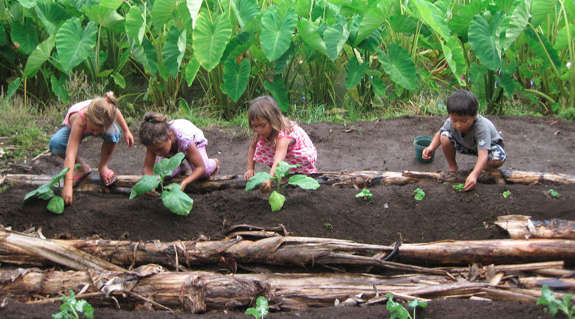 Ahupua'a
Ahupua`a is an old Hawai`i term for a large subdivision of land. The traditional subdivision system has four hierarchical levels.
mokupuni (whole island)
moku (largest subdivisions of an island)
ahupua`a
`ili (two or three per ahupua`a).
Each ahupua`a was ruled by an ali`i or local chief and administered by a konohiki. The ahupua`a consisted most frequently of a slice of an island that went from the top of the local mountain (volcano) to the shore, often following the boundary of a stream drainage. Each ahupua`a included a lowland mala (cultivated area) and an upland forested region. "As the native Hawaiians used the resources within their `ahupua`a, they practiced aloha (respect), laulima (cooperation), and malama (stewardship) which resulted in a desirable pono (balance)". The Hawaiians believed that the land, the sea, the clouds, and all of nature had a certain interconnectedness which is why they used all of the resources around them to reach the desired balance in life. Sustainability was maintained by the konohiki and kahuna: priests, who restricted the fishing of certain species during specific seasons. They also regulated the gathering of plants.
Ahupua`a is derived from the Hawaiian language ahu, meaning "heap" or "cairn", and pua`a, pig..
For 20 years now, Waipa Foundation has worked with the community to manage the 1,600-acre ahupua`a of Waipa, located on the north shore of Kaua`i. Waipa is a place where folks can connect with the `aina (that which feeds us- the land and resources), and learn about our local values and lifestyle through laulima (many hands working together).
Waipa grows kalo (taro) and a variety of other fruits and vegetables. Waipa Foundation loves sharing the work and the harvest! The community makes poi together every Thursday in the Waipa poi garage. Both residents and visitors come to taste the local flavors at their Tuesday Market. They are also building a community poi mill and kitchen.
Waipa is a unique and cultural venue for events, and they welcome private functions, conferences, camping groups, and more. They also host seasonal festivals! See below for information on the Mango Festival!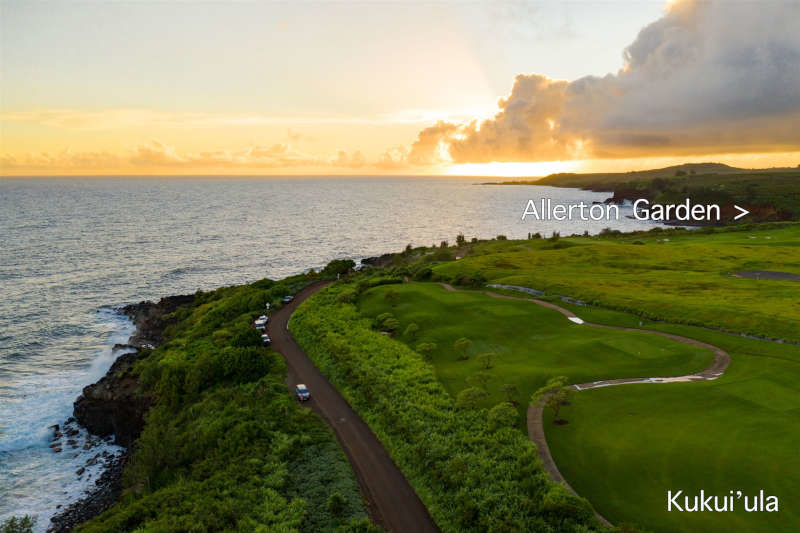 The Meaning of Mauka and Makai
Learn to navigate like a local by replacing the words left and right with either mauka or makai when giving directions. Mauka (pronounced mow-kah) means on the mountain side and makai (pronounced mah-kigh) means on the ocean side.
These directions are easy to use as the island is circled by the ocean so wherever you are there will always be a makai or mauka side to reference! For example: The vacation home is located on the makai side of the street, meaning it is on the ocean side. This eliminates the confusion of north, south, east, and west, which is very hard to determine when you are on an island.
Leeward and windward are also terms frequently used by island residents as geographical reference points when giving directions. Windward is the side of an island where the trade winds travel from the sea onto the island. Leeward is the side where the wind moves from the land to the sea, i.e. if you are standing on the beach, looking towards the shore, and the wind is blowing in your face then you are facing windward! If you are standing on the beach, looking towards the shore, and the wind is blowing on your back, you are facing leeward!
The trade winds blow from the northeast of the Hawaiian islands to the southwest and the trade winds bring moist air; thus, the north and east sides of each island typically get more rainfall. As a result, the windward side is lush and green and is also referred to as the wet side. In contrast, the south and west sides are leeward and are typically the dry, arid sides of each island.
If you hear the weather report predict cloudy weather with windward and mauka showers, it most likely means that it will be raining on the North Shore. If you are planning a beach day, you will still find sunny weather in Poipu or on the leeward side.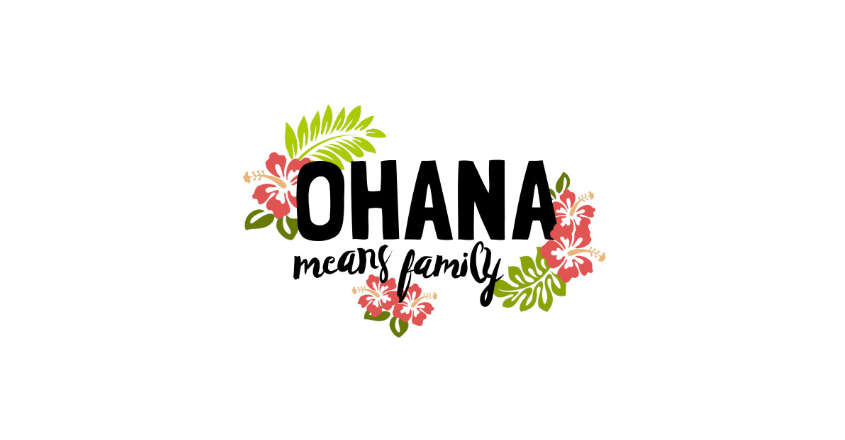 The Meaning of Ohana
Our Koloa Kai Ohana includes everyone who is connected to the company, our staff members, their partners, and their keiki (children) too!
Ohana means family in Hawaiian and includes blood relatives and informally adopted kin. It can also refer to a group of friends, an organization, a team, or a community such as a school ohana or the church ohana. To belong to an ohana means that you share in the responsibilities of that family group. It is common for organizations to have an ohana picnic that includes members, their families, and their friends. Aloha is always extended by the ohana and it serves to welcome and create a sense of belonging and connectedness between people that is carried through generations.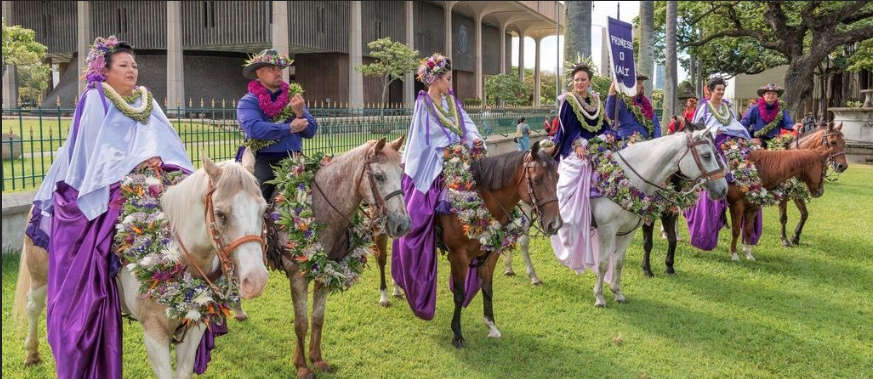 Hawaiian Pa'u Riders
The history of Pa`u Riders dates back to the mid-1800s following the arrival of the first horses in the Islands in 1803. Horses were unknown to the Hawaiian people of old. That changed when Lelia Byrd – a merchant-vessel of the American registry arrived in Kawaihae Bay, Hawai`i, on June 24, 1803. Richard J. Cleveland the ship`s owner had procured a horse, two mares, and a foal in California to present as a gift to the King of the Sandwich Islands (Hawai`i) King Kamehameha.
To ride astride their horse with modesty and formal dignity Hawaiian women, devised an outer cover skirt (pa`u) to protect their shoes and dress clothing while traveling over dusty and muddy trails on the way to social visits. Early pa`u skirts were fashioned from available fabric, usually calico or gingham, and fastened at the waist and ankles with rope so that even the feet were covered.
The arrival of floral parades in Honolulu in the early 1900s ushered in more elegant fabrics like satin, as well as more floral decoration and accessories for both horse and rider. Through the years the floral parades become more elaborate, pa`u riding evolved into a ceremonial display in which lei-bedecked women demonstrated their skilled and graceful horsemanship.
There are traditionally eight equestrian units at the Aloha or Kamehameha parades. One to represent each island of the old Hawaiian Kingdom. Every article of clothing, accessory, color, and flower was chosen all have significance and meaning. There is a story and history behind everything. Red for example represents the island of Hawaii, Kauai is purple, Molokai is green, Kahoolawe is the color grey, Lanai is orange, Niihau is white, Maui pink and Oahu is the color yellow.