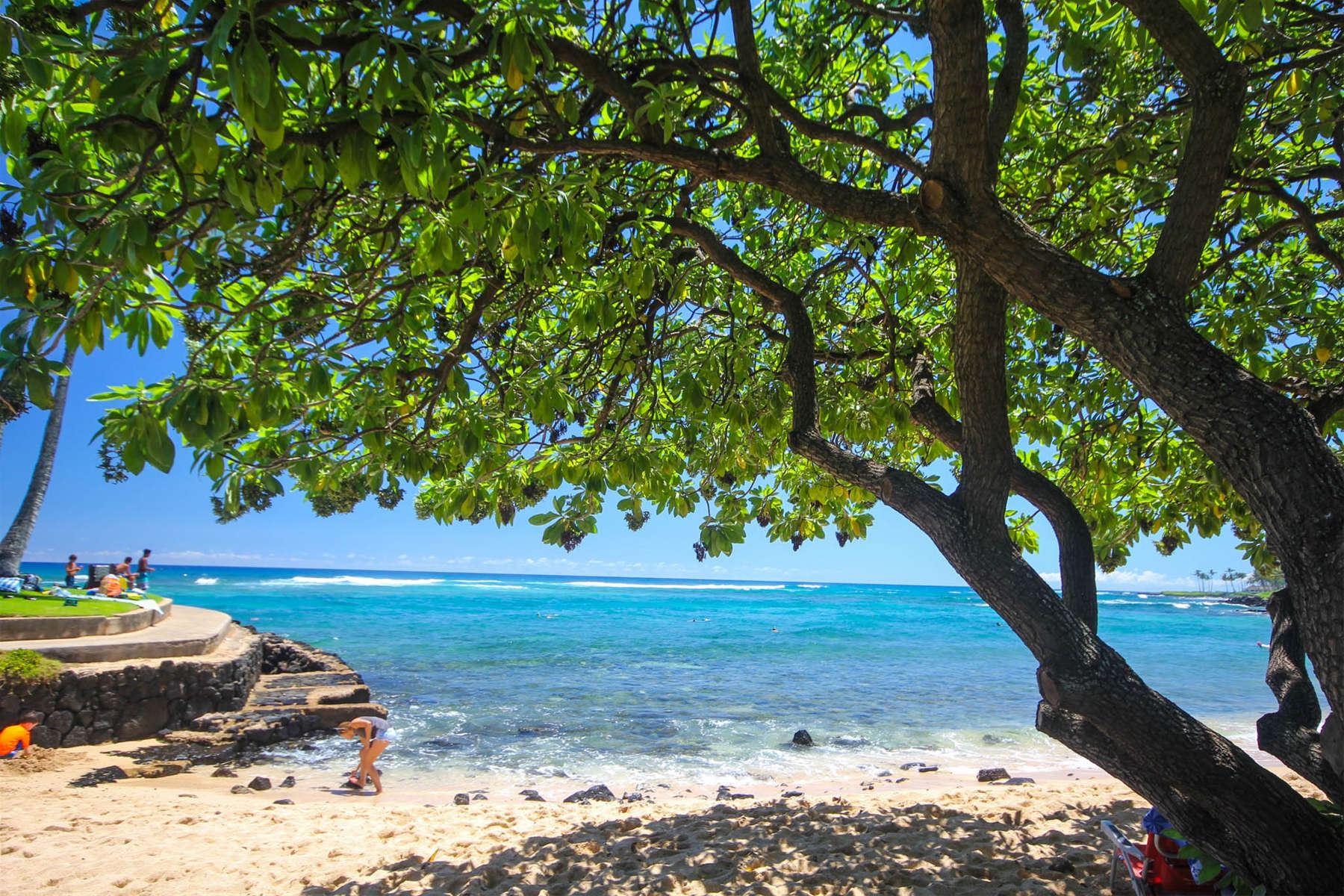 Beaches on the Southside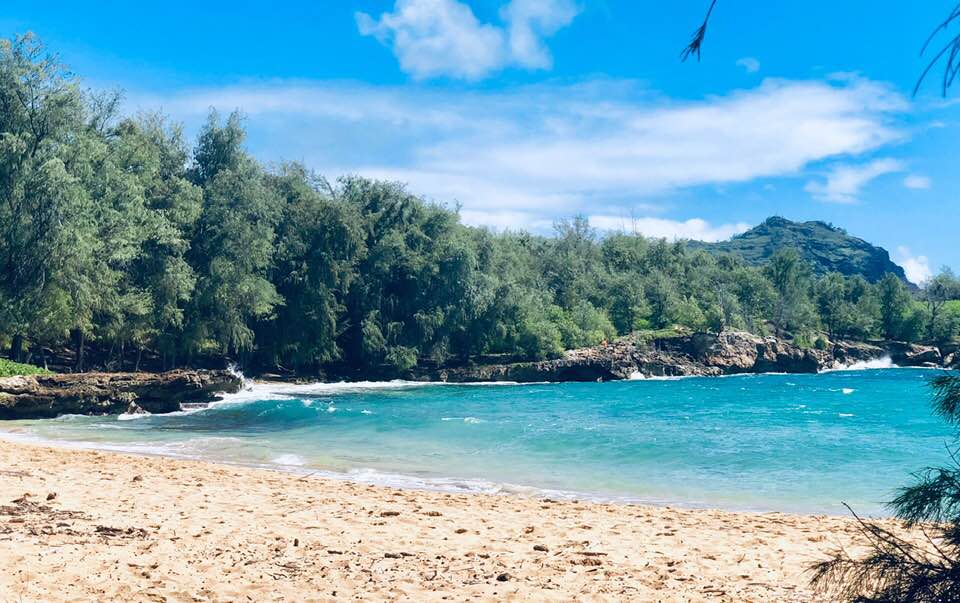 Maha'ulepu Beach
Mahaulepu Beach is a gorgeous and idyllic stretch of golden sand that feels like a remote piece of paradise. The beach is separated into three different parts: Gillins Beach, Kawailoa Bay, and Hula Beach. Mahaulepu is popular with locals and visitors, including windsurfers, swimmers, snorkelers, fishermen, and sunbathers.
Mahaulepu is home to a research site and habitat for rare and endangered plants and animals. Makauwahi Cave is very close to the beach where special research is being conducted as well as tours being given. There are many tortoises that live on the property as well. The Native Hawaiians consider it a sacred place, and it still remains an important agricultural place.
You can no longer drive to this beach. The closest access is from CJM Stables. There are no lifeguards at this beach. Use extreme caution.
Location: Poipu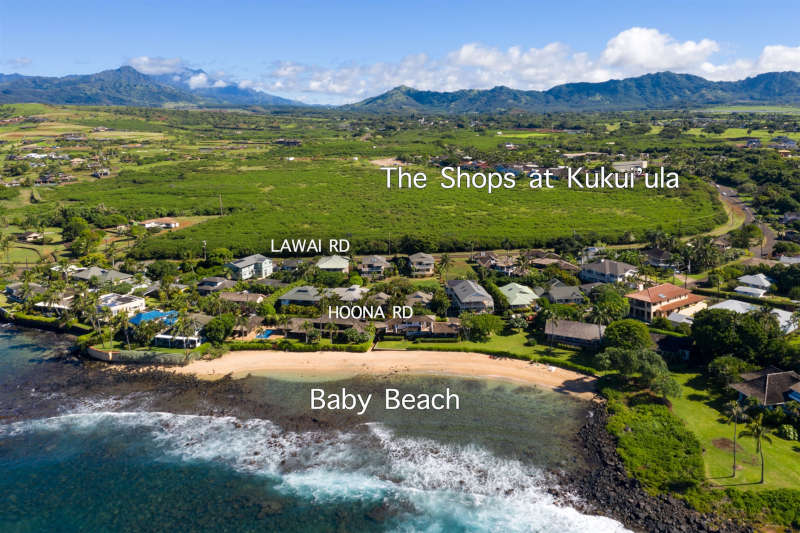 Baby Beach
Baby Beach, as its name applies, is ideal for infants and toddlers, for its shallow waters and the rocky reef offshore that acts as a wall for incoming waves. The low waves provide a good snorkeling opportunity for the young ones or if they simply want to wade in the water. One of the perks of being at this beach is you don`t have to worry about it being overcrowded.
Baby Beach is located in Poipu and is within walking distance from Kuhio Shores and Whaler's Cove. From the round-a-bout, head down Lawai Road and make a left onto Hoona Road, then look for a yellow pipe that marks the beach access; you should be able to enter between the homes at 5142 and 5152 Hoona Road. Because it is nested right next to a residential area, parking is limited. Keep in mind that there are no lifeguards or facilities at Baby Beach so plan accordingly and do not be careless as ocean and weather conditions can change.
Sea turtles and Hawaiian Monk Seals will sometimes occupy this beach as well. If you happen to encounter these animals please be respectful and keep your distance, as they are protected species.
Location: Poipu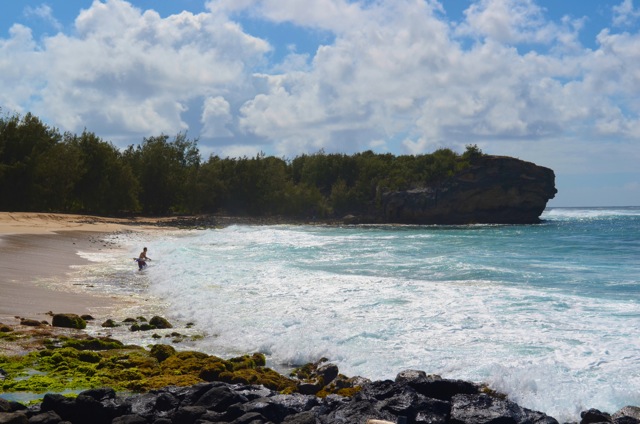 Shipwreck's Beach Keoneloa Bay
Shipwreck's Beach at Keoneloa Bay is a stunning beach fronting the Grand Hyatt Kauai. The beach is a popular spot for photographers, especially at sunrise when the sky is lit with a stunning array of colors. However, the beach is not suitable for swimming due to strong currents and dangerous riptides. Red flags are present to indicate this danger, so it is important for visitors to be aware and heed the warnings.
Keoneloa Bay is also a great spot for picnics, and it is the starting point for the Mahaulepu Coast Trail. This trail offers stunning views of the coast and is a great way to explore the area. Surfing is popular and the surfers are usually out there before sunrise and are close enough to the shore that it is a great spot to watch. Keoneloa Bay is a beautiful beach with plenty to offer. Whether you are looking for a great place to take pictures, a spot for a picnic, or a starting point for a Mahaulepu Trail adventure, Keoneloa Bay is the perfect destination. Just remember to pay attention to the red flags, and stay safe.
Location: Poipu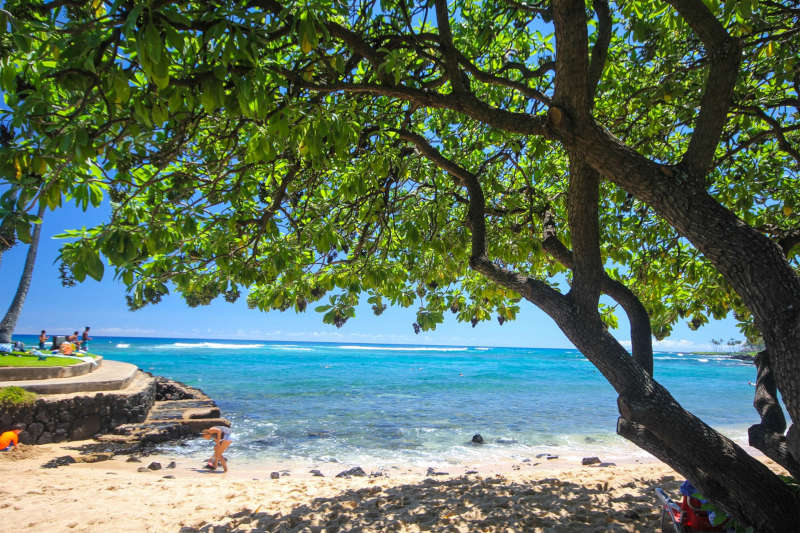 Lawai Beach
Lawai Beach is one of the most beautiful beaches located in the southern part of Kauai. It stretches 1,000 feet along the coastline and is a popular spot for swimming and sunbathing. The beach is also home to the Beach House Restaurant, which is renowned for its delicious seafood and stunning views of the ocean. Lawai Beach offers crystal-clear waters that are perfect for swimming and snorkeling. Visitors can enjoy spotting colorful fish, sea turtles, and even dolphins if they are lucky. The beach is an excellent spot for surfing too, and there are many breaks that cater to both beginners and experienced surfers.
One of the unique features of Lawai Beach is the beautiful rock formations that line the shoreline. These geological formations are a signature of the area and add to the natural beauty of the beach. The Beach House Restaurant is a must-visit spot while enjoying Lawai Beach. The restaurant offers a variety of seafood dishes, including fresh fish and crab cakes, and is renowned for its amazing sunset views. Visitors can enjoy a cocktail or a glass of wine while watching the sun dip below the horizon. Overall, Lawai Beach is an idyllic tropical paradise with stunning scenery, beautiful swimming spots, and a fantastic restaurant. It is a must-visit for anyone exploring Kauai`s southern coast.
Location: Poipu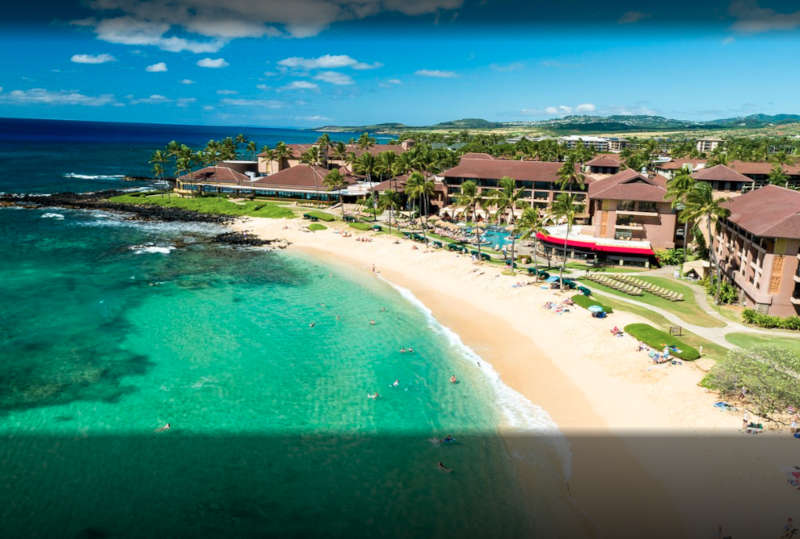 Sheraton's Beach
Sheraton's Beach in Poipu is a breathtaking white sand beach that offers breathtaking views of the Pacific Ocean. Known for its warm waters and stunning sunsets, this beach is a popular destination for tourists and locals alike. The beach offers a range of activities to visitors, including swimming, snorkeling, and surfing. The waters here are calm and clear in the winter, making it an ideal spot for families with young children. Visitors can also take a leisurely walk along the beach and enjoy the warm sun on their skin.
During the winter months, visitors to the beach may be lucky enough to spot humpback whales that migrate to the waters of Kauai to breed and feed. The stunning creatures often put on spectacular displays, jumping and splashing in the water within view of the beach.
Whether you're looking to relax and soak up the sun or take part in some water activities, Sheraton's Beach in Poipu is a must-visit destination for those traveling to Kauai. With its beautiful scenery and luxury accommodations, it's no wonder that it's one of the most popular beaches in the area.
Location: Poipu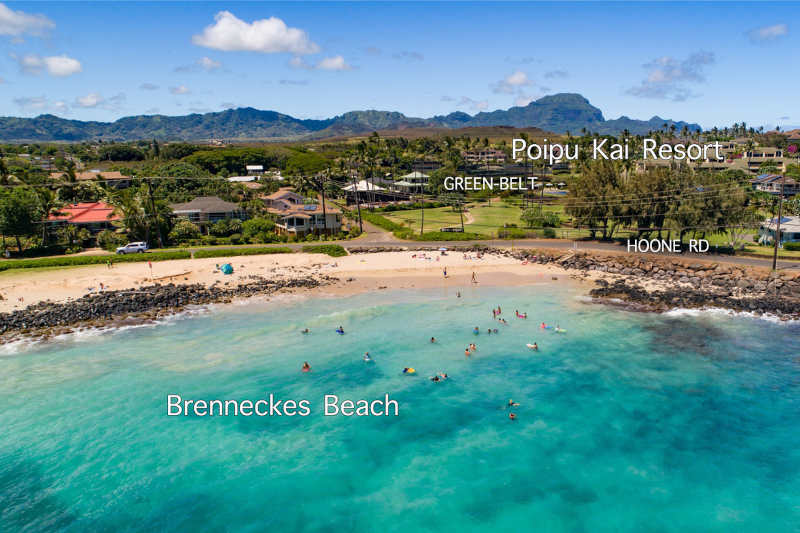 Brennecke's Beach
Brennecke's Beach, located in the Poipu area of Kauai, is world-renowned for its incredible waves, making it a popular destination for bodyboarders and bodysurfers. With its crystal-clear waters and stunning scenery, this pristine beach has long been a beloved spot for water sports enthusiasts. At Brennecke's Beach, the waves are consistently big and powerful, particularly in the summer months when the water is rougher on the Southside. There is also a consistent swell in the summer months that draws in surfers and bodyboarders alike. The waves can get up to 10 feet tall, providing the perfect opportunity to show off your surfing or bodyboarding skills.
In addition to the quality of the waves, Brennecke's Beach has the perfect conditions for bodyboarding and bodysurfing. The beach has a steep slope, which causes big waves to break close to the shore, providing a thrilling ride for those brave enough to tackle them. However, it's worth noting that Brennecke's Beach is not for beginners. The waves can be challenging, and the shore break can be strong, which can make it dangerous for inexperienced surfers and bodyboarders. If you're new to the sport, it's best to stick to the calmer waters and seek out more suitable surf locations. Overall, Brennecke's Beach is a must-visit spot for seasoned surfers and bodyboarders looking for an exhilarating ride on some of the best waves in Hawaii. With its exceptional ocean conditions and stunning natural surroundings, it's no surprise why Brennecke's Beach continues to draw countless water sports enthusiasts from all around the world.
Location: Poipu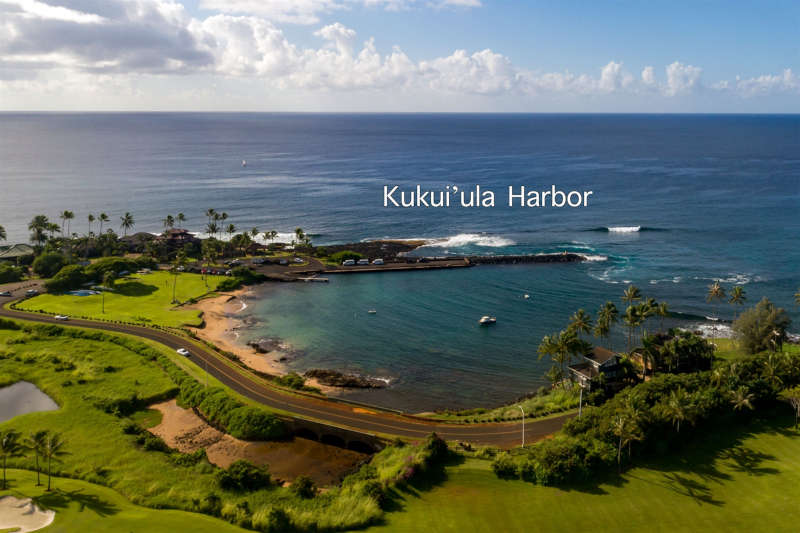 Kukuiula Boat Harbor
Kukuiula Boat Harbor on Lawai Road is a hidden gem on the south shore of Kauai. This picturesque harbor offers access to some of the most beautiful and pristine waters of the Pacific Ocean. The harbor is a popular spot for swimming, paddleboarding, kayaking, boating, fishing, and sightseeing, and is known for its serene and peaceful atmosphere. Built in 1955, Kukuiula Boat Harbor was originally constructed as a commercial fishing port. Today, it serves as a recreational harbor with restrooms, and showers for visitors.
The marina is a popular spot for sport fishing charters, whale-watching tours, and snorkeling cruises that showcase the incredible marine life of Hawaii. The harbor is located in an area known as Sunny Poipu, which boasts consistent sunny weather year-round. The clear blue waters of the harbor will leave visitors spellbound with stunning views of the surrounding area. Visitors can also take a stroll along the shoreline and bask in the beauty of the oceanfront. There is a scenic walking trail that follows the coastline, offering sweeping views of the harbor and the ocean beyond. Visitors can also explore the quaint shops and restaurants nearby, which offer local souvenirs, art, and delicious Hawaiian cuisine. Whether you are an avid boater or a sun-seeker looking for a tranquil escape, Kukuiula Boat Harbor on Lawai Road is a must-visit destination on Kauai`s south shore. The harbor`s serene ambiance and breathtaking views will leave you rejuvenated and ready to explore more of Hawaii`s stunning natural beauty.
Location: Poipu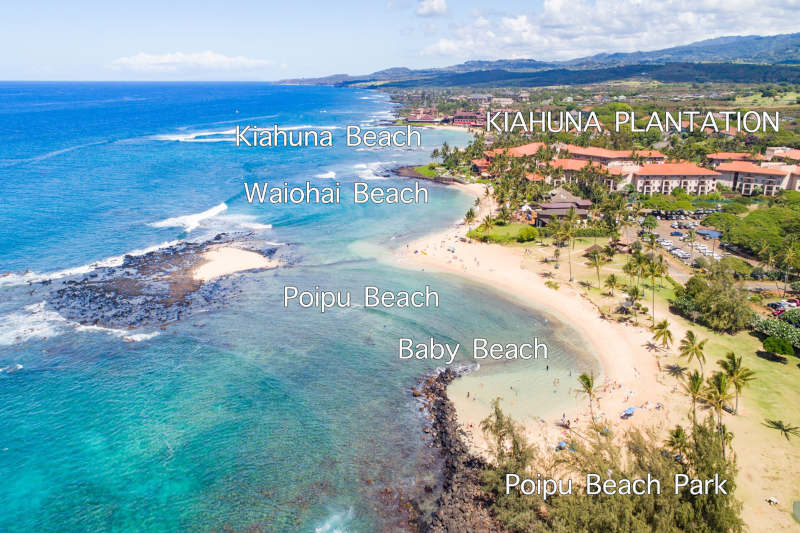 Poipu Beach Park
Poipu Beach Park is a stunning destination located on the south shore of Kauai. It is a favorite spot for locals and visitors alike and is home to a variety of activities and wildlife. One of the highlights of the park is its population of honu, or Hawaiian green sea turtles. These turtles can often be seen basking in the sun on the beach or swimming in the shallow waters of the bay. The park also offers a variety of activities for visitors. Swimming and snorkeling are popular activities, with gentle waves and plenty of marine life to explore. Fishing is also a popular pastime, and the park is stocked with a variety of fish species. Other activities include kayaking, stand-up paddle boarding, and beachcombing. Visitors can also enjoy a picnic in the park`s pavilion, which is a great place to take in the beautiful views of the beach and ocean. For those looking for a unique experience, Poipu Beach Park also hosts a variety of events, such as cultural hula performances and traditional Hawaiian music. The park is also a great place for whale watching, as it provides one of the best vantage points for spotting humpback whales during the fall and winter months. With its idyllic setting and many activities, Poipu Beach Park is the perfect place to relax and explore the beauty of Kauai.
Location: Poipu