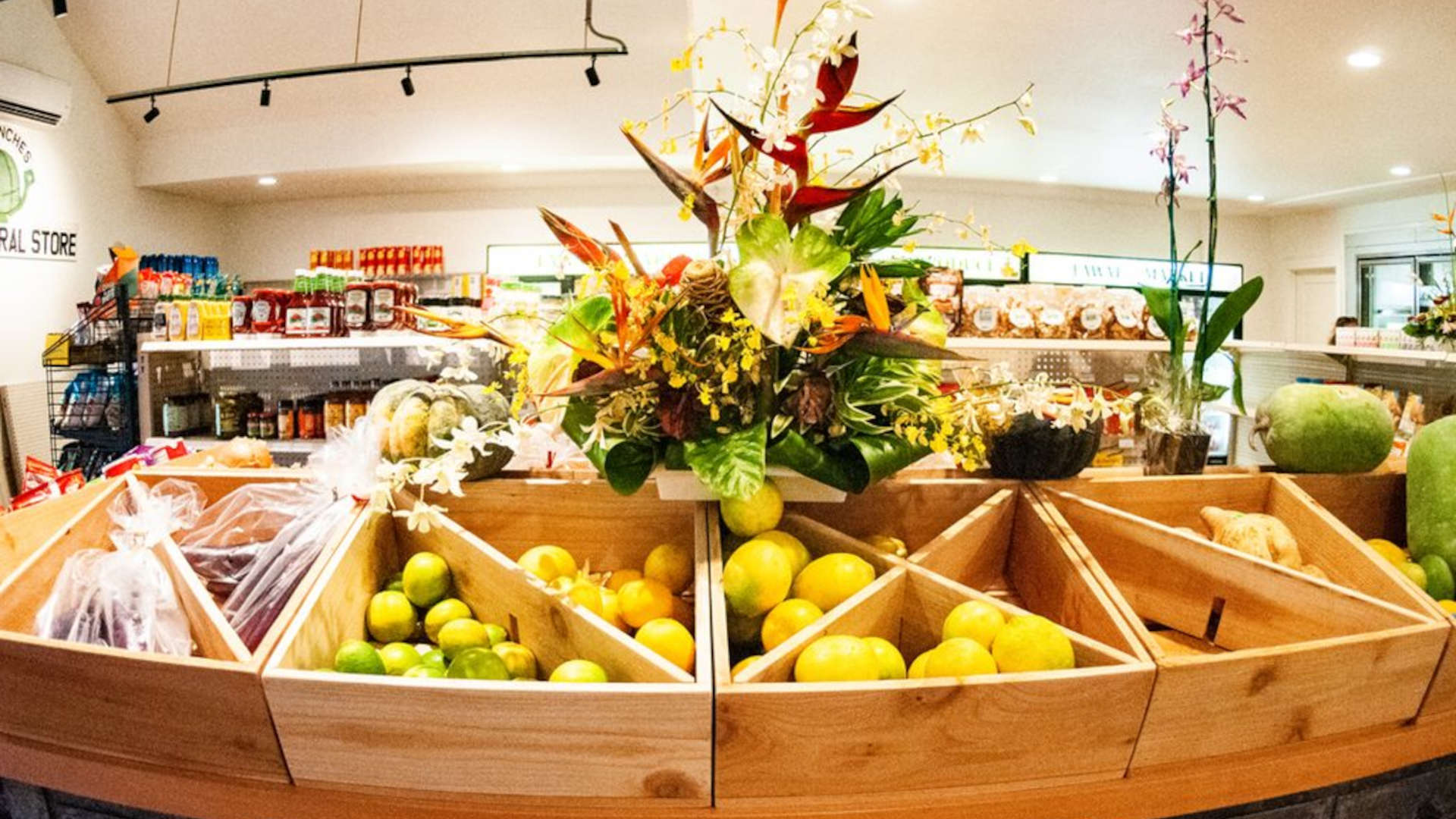 Shopping West of Poipu
The Charming History and Continual Appeal of Lawai General Store Since 1910, the Lawai General Store has been a cornerstone of the small community of Lawai, located on the southern coast of Kauai. The store has a rich history in both retail and social contexts that have made it an iconic landmark for both locals and visitors. Originally opened as a sugar plantation store, Lawai General Store has transformed throughout the years to adapt to the changing times and needs of the community.
One unique feature of the store is its old-fashioned exterior, which has remained almost untouched throughout the decades. The hand-painted signage and antique storefront harken back to a time when shopping was a more personalized and unique experience. Despite its vintage exterior, the Lawai General Store is a modern-day shopping destination, offering a variety of goods and services to the community. Groceries, homemade baked goods, and souvenirs are among the many items that can be found at the store, as well as a post office, gas station, and convenience store.
In addition to its retail offerings, Lawai General Store is also a community gathering spot. Many locals gather on the store`s porch to chat with friends, enjoy an ice cream cone, or simply take in the beauty of the surrounding area. The store has become a central location for community events, such as Halloween celebrations and live music performances. Despite facing the challenges of modern convenience stores and online retailers, Lawai General Store has remained a beloved spot for those who crave a more authentic shopping experience. Its rich history, personalized customer service, and charming atmosphere have continued to draw visitors and locals alike for over a century. If you`re looking for a unique window into the history and culture of Kauai, make sure to drop by the Lawai General Store.
Location: Lawai (7.4 miles from Poipu)
Phone: 808-332-7001
A One-Stop-Shop for Unique Finds and Local Treasures Warehouse 3540, located in Lawai, is a vibrant and eclectic marketplace that offers a unique shopping experience for visitors and locals alike. The Warehouse is not just another shopping destination; it is a cultural hub that brings together a creative community of artisans, makers, and entrepreneurs.
Refill Kauai is one of the standout stores at Warehouse 3540, providing eco-conscious shoppers with a variety of sustainable options. Refill Kauai offers an alternative to single-use plastics by providing a refill station for household cleaning products, beauty products, and personal care items. This store also features a variety of eco-friendly home goods, accessories, and gifts.
Navy Dylan is a clothing and accessory store that offers stylish and functional pieces. Their clothing selections are perfect for those who desire comfortable yet sophisticated outfits for any occasion.
At Lili Koi, you can find unique handcrafted jewelry made with natural materials like shells, gemstones, and crystals. Their jewelry pieces are not only beautiful but also meaningful – each design is given a Hawaiian name to add special significance to each piece.
Aphrodite`s Treasures offers an enchanting selection of crystals, gems, and minerals. Visitors to the store often find themselves in awe of the raw beauty of these precious stones. The stone-filled space has an uplifting and calming effect, providing positive energies that support a variety of intentions.
Art enthusiasts will appreciate Robin McCoy`s gallery, Robin McCoy Fine Art. McCoy specializes in contemporary art featuring Hawaii`s natural landscape, with vibrant, colorful paintings depicting the beauty and energy of the islands. Her exhibitions are perfect for those who want to take home a unique piece of Hawaiian art for their collection.
Sugar Skull is a vintage clothing store with a unique twist. They offer clothing, accessories, and home decor inspired by Mexican culture and Dia de los Muertos. Sugar Skull is a quirky store that provides visitors with an immersive shopping experience and a chance to embrace the vibrancy of Mexican culture.
Kahanananea Soaps is a Kauai-based business that specializes in all-natural, handmade soaps. Their store at Warehouse 3540 is full of beautifully scented soaps, balms, and lotions, which also make perfect gifts for friends and family. Hanako is a beauty and skincare store that emphasizes the use of natural and local ingredients in its products. Their selection of beauty and skincare items caters to all skin types, with a variety of fragrances to choose from, all made with the aloha spirit in mind.
The Local Beet is a health food store that offers a wide range of organic and local produce, supplements, and vitamins. They pride themselves on working with local farmers and being sustainable, organic, and mindful in every aspect of sourcing and selling their products.
Wildflower Boutique offers a collection of women`s clothing and accessories, with a "boho-chic" vibe that is perfect for the Hawaii lifestyle. Their clothing selection is comfortable yet stylish, perfect for a beach day or a night out.
Warehouse 3540 is truly a one-stop shop for unique finds and local treasures on Kauai. Whether you're on the hunt for eco-friendly products, vintage clothing, or natural skincare options, there`s something for everyone at Warehouse 3540.
Location: Lawai (7.3 miles from Poipu)
Discovering the Charm of Hanapepe Town: A Shopper`s Paradise Nestled on the western side of Kaua`i lies the charming Hanapepe town. Although small in size, the town is big on character and has become a popular destination for both locals and tourists alike. One of the main draws of Hanapepe Town is its array of unique shops and boutiques. Whether you`re looking for handmade crafts, art, antiques, or locally sourced goods, Hanapepe Town has something for everyone. Let`s take a closer look at some of the best shopping options in Hanapepe.
1. Talk Story Bookstore is a must-visit destination for book lovers. The store has an extensive collection of new and used books, including local authors and Hawaiian history. The bookstore also hosts regular events, such as book signings and author readings.
2. Artworks is an art gallery that features works from local artists. The gallery showcases a variety of mediums, including paintings, pottery, and jewelry. The space also offers art classes for those interested in learning a new skill or creating their own masterpiece.
3. Aloha Spice Company Those looking to take home a taste of Hawaii should stop by Aloha Spice Company. The shop boasts a wide selection of spice blends and rubs that are made with locally sourced ingredients. Visitors can also sample some of the blends and pick up a few recipes to try at home.
4. Midnight Bear Breads & Bakery is a family-owned bakery that offers freshly baked goods daily. Their cinnamon rolls are a fan favorite, but they also have a variety of bread, muffins, and pastries to choose from. Visitors can even grab a loaf of bread to take home to enjoy later.
5. Storybook Theatre is a hybrid space that serves as a community center, art gallery, and theater. The space also includes a gift shop that features works from local artisans. Visitors can find unique items such as homemade soap, beeswax candles, and handcrafted jewelry.
In conclusion, Hanapepe Town is a hidden gem on the island. Its collection of shops and boutiques offers a glimpse into Hawaiian culture and is a unique addition to any shopping excursion. With something for everyone, Hanapepe Town is worth taking an afternoon to explore.
Location: Hanapepe (13.4 miles from Poipu)