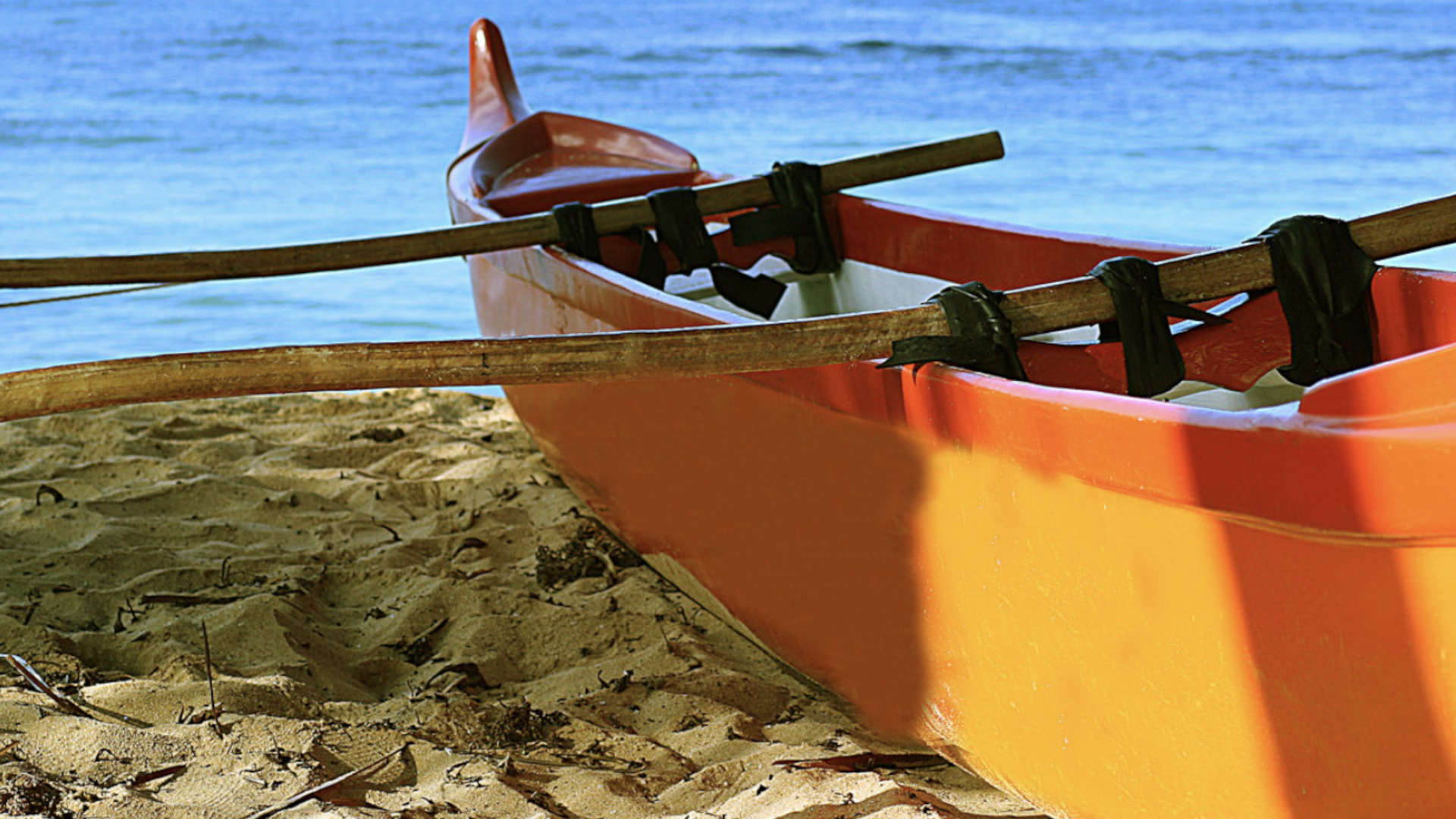 Paddling
Outrigger and Canoe Races
Fun fact: in 1986, Hawaii made outrigger canoe paddling its official team sport.
Do you want to know another fun fact? The official state fish of Hawaii is called Humuhumunukunukuapua`a. It helps if you bob up and down when you pronounce each syllable.
Now, what do both of these have in common for the purpose of this article? Nothing. But, visitors always get a good laugh when introduced to our state fish. I am really here to talk to you kind folks about canoe racing and a major annual racing event held on Kauai called the Tahiti Fete.
The Race is hosted by the Hanalei Canoe Club and takes place at the Hanalei Pier on the North Shore. Aside from being a competition, it is also a community event so families are absolutely welcome to this event. Canoe rides, food, craft booths, music, and kids events are provided for spectators and participants. If you want to join in on the racing, then by all means.
Paddle if you like to paddle.
You can either put together your own crew or the Hanalei Canoe Club will help find you,r crew members. The race format is a quarter-mile 6-man outrigger canoe regatta. A regatta means a series of boat races. Three divisions: men, women, and mixed.
Three categories: novice B (anyone who has never paddled before), novice A (anyone who has paddled in this event for 1 to 3 years), open (anyone who has paddled competitively within the last two years, or is currently paddling with a canoe club, and build-a-boat (any age and experience level, no restrictions, $25 a seat and the canoe club will put together your crew.
Pricing goes as follows: $125/crew, $25/individual, $10/canoe ride, and $5 for the kids` event.
I hope your shoulders and your back are up to it. You can watch, but do you really want to just watch? Come on, you are here in Hawaii, might as well, right? Life advice right here, there is an expression for it.
When in Rome.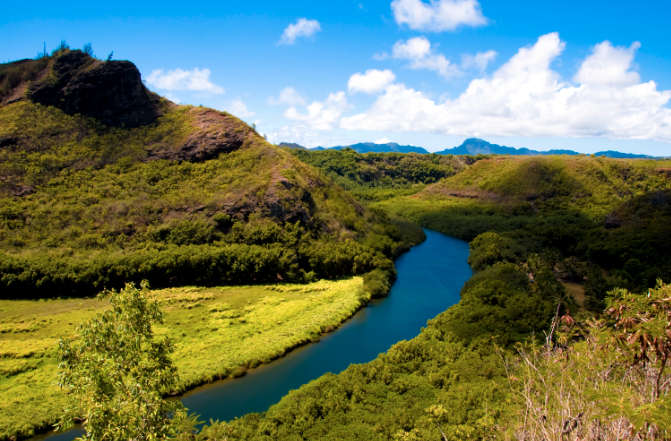 Kauai's Rivers
Kauai has the only navigable rivers in Hawaii: Hanalei River, Huleia River, and Wailua River. For those wanting to try some paddle boarding and kayaking, Kauai`s rivers offer a less strenuous and safer alternative to paddling out against unfamiliar ocean currents. This makes for a great activity for kids, older individuals, or other inexperienced paddlers.
Hanalei River is located on the north shore and runs right through large patches of taro fields and vegetation, until finally entering Hanalei Bay; a perfect spot to recover after a 16-mile paddle down the river. From Hanalei, if you head down to the east side of Kauai, towards Kapaa, you`ll discover the Wailua River. It features two waterfalls: Wailua Falls and Opaekaa Falls. Wailua Falls drops from 85 feet high while Opaekaa Falls towers above 150 feet high. As always, take proper precautions when venturing here. At the end of the river, you`ll come to the Fern Grotto, a historic cave filled with tropical plants and ferns that extend all the way from the ceiling. It is also a popular site for wedding ceremonies. If you are looking to dock here, do so before or after the arrival of the tour boats that make their regular stops throughout the day. Add 20 miles of paddling to that and the Wailua River provides more than enough to plan your water adventure. The next river down is the Huleia River, located in Lihue by the Nawiliwili Boat Harbor. It is home to the Menehune Fish Pond, which is over a thousand years old, and you`ll have the best seat to the Ha'upu Mountain Range. The river may be most notable for being one of the filming sites for Indiana Jones: Raiders of the Lost Ark, so if you want to capture a little bit of Hollywood, this may be your chance.
Whether you're looking for a fun family activity or a simple cruise on the water, Kauai's rivers are worth checking out. Keep in mind, you can`t navigate on any other river in Hawaii except those on Kauai, so it is definitely something to think about doing while you are here; not a lot of people can say they have.
Kayaking on Kauai
Kayaking on Kauai is a great way to explore the island's stunning natural beauty from a unique and up-close perspective. With a variety of kayaking options available on the island, there`s something for everyone, from serene river paddles to adventurous ocean expeditions. One of the best places to rent kayaks on Kauai is at Wailua River State Park, located on the island's east side. Here, visitors can rent kayaks and explore the Wailua River, which winds its way through lush jungle scenery and past historic sites like the ancient Hawaiian village of Kamokila.
Another popular kayaking destination on Kauai is the Napali Coast, a ruggedly beautiful stretch of coastline on the island`s northwest side. While kayaking here can be more challenging due to choppy ocean conditions, it`s a great way to see some of the island`s most dramatic scenery, including towering sea cliffs, hidden beaches, and crystal-clear waters.
For beginners or those looking for a more relaxed kayaking experience, Hanalei Bay is a great option. Located on the island`s north shore, Hanalei Bay is home to calm, clear waters that are perfect for a leisurely paddle. From here, visitors can explore the bay's scenic shoreline and nearby landmarks like the Hanalei Pier and the Waioli Mission House. If you're looking for a guided kayaking excursion on Kauai, there are plenty of options available. Outfitters like Kayak Kauai and Wailua River Guides offer guided tours to some of the island's most picturesque locations, providing visitors with expert guidance, equipment, and local knowledge. Overall, kayaking on Kauai is a must-do activity for anyone looking to experience the island's stunning natural beauty up close. Whether you`re a skilled paddler or a first-timer, there`s a kayaking adventure on Kauai waiting for you.