Poipu Beach Athletic Club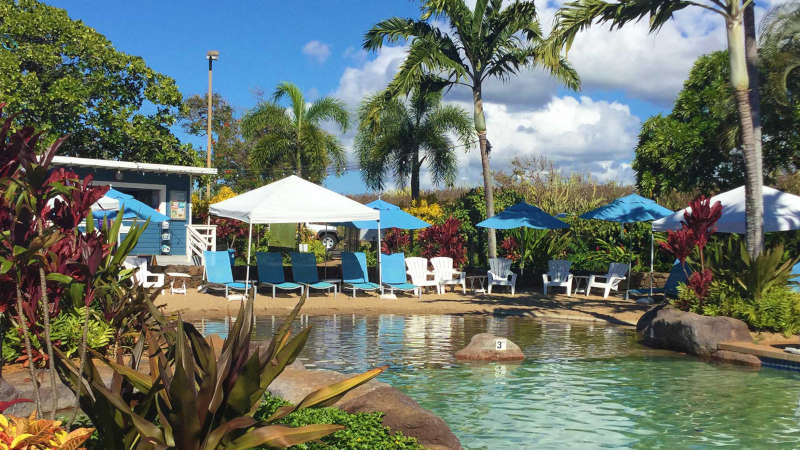 Poipu Beach Athletic Club
Poipu Beach is a true oasis for anyone seeking an unforgettable vacation filled with endless fun and adventure. Among the many must-visit spots in Poipu Beach are the Poipu Beach Athletic Club and its on-site restaurant, The Cabana. Membership is not required to go to the Cabana; the rest of the Club requires that your vacation rental has a membership.
This unique hidden gem offers a plethora of exercise opportunities and family-friendly activities all in one convenient location. For fitness enthusiasts, the Poipu Beach Athletic Club is a dream come true. Boasting a wide range of facilities and exercise equipment, the Club offers an unbeatable range of workout options. From cardio to strength training to yoga, the Club has it all. But perhaps the most popular workout tool in the Club is TRX suspension training, which uses bodyweight exercises to help build muscle strength and improve flexibility.
In addition, the Club also offers group classes, personal training, and all kinds of sports such as tennis, pickleball, and basketball for those who prefer group exercise. After a tough workout, The Cabana at Poipu Beach Athletic Club provides the perfect spot to relax and unwind. The Cabana is a delightful poolside restaurant that offers a diverse menu with a focus on healthy eating options. The menu includes favorites such as burgers and fish tacos, as well as a variety of organic salads, quinoa bowls, and smoothies. The poolside service ensures you can savor the delights while staying cool. But that`s not all!
There is plenty of family-friendly fun in store at Poipu Beach Athletic Club. You can challenge one another to some friendly competition by playing games like ping pong or other lawn games on their beautiful green lawn. Overall, the Poipu Beach Athletic Club and Cabana is the perfect getaway spot for all exercise enthusiasts and families who enjoy spending quality time together in beautiful tropical surroundings. So, whether you`re looking for a good workout or a fun day out with your loved ones, the Athletic Club has got you covered.